Design's first rule of business
There are so many things one could write if one were to, say, formulate a list of rules for design (and designers).
I'm going to just stick with one, for now. The very first rule:
Don't insult the customer
(Customer/viewer/user/reader/whatever)
American Airlines obviously needs to learn this lesson.
I mean, where can one even start?
Overview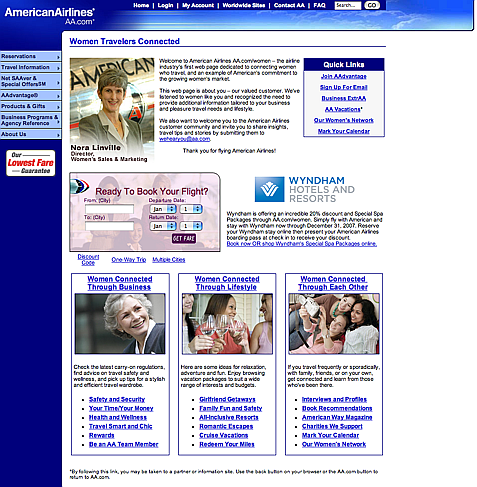 So inviting and feminine!
Friendly details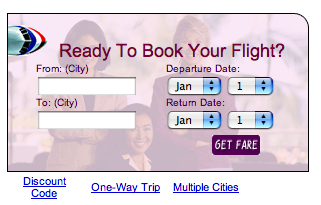 Look, it's pink! And a jet's entering the area… wait a second.
And yet, I feel oddly understood.
Oh no, not at all ambiguous market-speke
Best of all, American Airlines really knows how to speak to their target market and connect on a deep, visceral level. And it's really unique, too, that's what's so… unique about it. You couldn't swap out the photographs or the text and change the whole meaning of the site or anything, it's too unique and specific!
Before…

After…

I was going to take the top screenshot here and change the headings and make them something else to point out how vapid and empty it all is, but then I realized… I… don't have to. Shock. Awe.
Creative Commons cred. Flickr photo credits: here, here, and here.
So, really, what I'm trying to say is…
American Airlines, why don't you just take the honest and forthright approach? Put a friendly-looking Web 2.0 site with giant text that says:
Hi! Do you have a pair of breasts? Oh boy, do we have a deal for you! Actually it's the same old deal as we give everyone else, only with a bit more pink and a lot more obnoxious.

And then, just like with the panhandler who says he just wants to buy a beer, we might throw you a few dollars and shake our heads and say "Hey, at least they're honest."
Looking for the slides to my latest version of When Interface Design Attacks! ? They'll be up in a day or two, max, plus the promised links. Why did I post this entry first, you might ask? Ah, because it had to be done. Desperately.